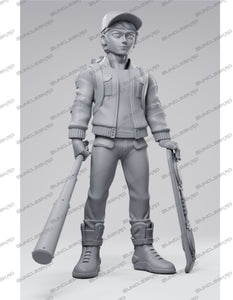 Design || JUNIOR FLUX || 3D Sculpt/Render
"OUT OF TIME" 
HAPPY #BACKTOTHEFUTUREDAY
Introducing the first character for my high school x battle royale x anime based x video game fighter for fun project figure (title revealed during @designercon). "Round 1" first look.
PLAYER SELECT
"JUNIOR FLUX"
What is the mystery around JUNIOR FLUX?!! More news to soon come during my popshoplive stream November 13-15, 2020.
The types of things that i wanted to implement in my line are natural focal points and textures to the touch. Blends between soft and hard edges, as well a balance of plane changes from simplistic to complex details. Textures such as the pattern of his jacket to the type of woven jeans he's rocking. For the Hypebeasts out there of course i kept attention to detail of his future kicks. In terms of physic, i definitely wanted to keep the athletic type of body as a base. Each character in the series will include memorabilia within their world in the form of back stories, accessories, and move set all within the worlds of the  above mentioned influences.
Take a look below of a few turn around renders done up by the fabulous @LyonBrandon (who helped and also sculpted this bad boy!) Leave a comment below of what you think!!
👍🏽🤛🏾💪🏼👌👏
-UNCLE SKRO
Designed by: Uncle Skro
Sculpted & Renders by: Brandon Lyon
---