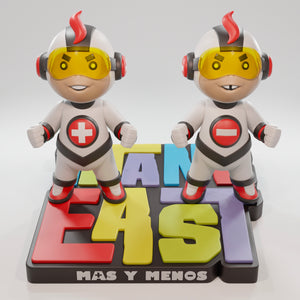 Design || "Mas y Menos" || 3D Sculpt/Render
¡Más y Menos, sí podemos!
Recognize these two speedsters? That's right they are MAS Y MENOS (Plus & Minus) 
from Teen Titans East! Showcased are the sculpt renders for a client over at WB Animation. 
These two were scaled to DC Direct's 2004 Maquette 1/800 animated series. Mas y Menos never made the cut so my client decided to make a run for himself! 
They are 5" in scale (compared to Robin) from the top of the head to the bottom of their feet with the tv shows featured logo as their base. 
These resin statues have a bit of action to them (i love my term ACTION STATUE!)
*Articulated head for focal preference
*Removable inner arms for the attaching of their "touching" hands
*Magnetic features in their feet to remove them from the base
*Magnetic attachments within the arms and head
These were designed between Brandon Lyon (
@LyonBrandon
) and myself. I love when a client gives accurate references to go off of. Makes everyones job so much easier. 
These are currently created over at Mana Studios in Orange, CA. Once they are in my hands you know it's painting time. Looking forward to jumping on these after Designer (Virtual) Con 2020.
Check a few of the renders done by Brandon as well as his work via his
website
. For updates you can follow us on instagram for the final result!
---