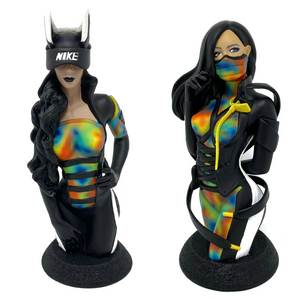 Product || "CIVILIST" AIR MAG & OW GIRL
"Air Mag Girl x Civilist"
"Off White Girl x Civilist"
 
I wanted to replicate the look and effect of one of my favorite shoes of 2020. A Nike SB by the company brand Civilist, based out of Berlin, Germany. This shoe color changes with temperature by the touch. It reminded me of one of my hot wheels as a child. So i reimagined (with the help of my wife) the patterns onto the Air Mag Girl & OW Girl figures (created by Reina Koyano). I have worked on quite a few other one off customs based off this platform.
Additionally i went further in recreating the thermal effect by mixing black to transparent thermal pigment powder with a clear mid coat applicator. The last picture below shows whats beneath once heated either by touch, heat gun, or sunlight. You can check out my instagram (@uncleskro) post for video of the effect.
These were sold instantly during Designer Con 2020's virtual event powered by Pop Shop Live.
---