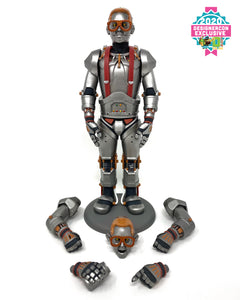 Product || ULTIMATE 10" ROBO NERD (URKEL BOT)
"ROBO NERD (URKEL BOT)"
Ultimate Edition 10" Resin Kit
Growing up in an era of family comedies how could one not come across the series show Family Matters! In my opinion, this show became one the most iconic and impactful moments during that part of my life just outside of the Martin show. This show had many moments of captivating wholesome stories mixed with a well balanced formula of humor. Out of three of my favs there was one particular episode that really stuck to me. 
In 1991, Steve Urkel (played by Jaleel White) introduced a robotic creation of himself called "Urkel Bot" whim was played by Michael Chambers (notably known as "Turbo" from the movie Breakin').
I always wanted a figure of this character for myself but of course nothing of the sort would be produced. Many light years later i came into the position of growing my own portfolio as a designer. This was an automatic to try and recreate as an adult. A fun fact, the title "Robo Nerd" was phrased by Eddie Winslow when he teased at Urkel about his robotic counter part.
After scrubbing through the two episodes and grabbing snap shots of every angle, i finally had enough material to create a turnaround sketch to work from. There was never a moment where he stood in a linear profile so it took some creativity as well as a good eye to formulate one. I wanted to make this as close as possible to the original design, all while making it more an actual robot versus an actor in a suit.
Aside from this i was always a fan of mobility in statues. So i wanted to engineer a bit of articulation for the statue but still have the look of an action figure. Therefore i titled the category "Action Statue". After a few prints i wanted to keep the piece a bit larger than the standard action figure size, but smaller than a 1/6th scale (12"). Additionally i wanted interchangeable parts while continuing to work with magnets. Each piece snaps into place and fits like a glove. The inner arm has an original star helix shape for reposing to ones desire.
I am very pleased with the end result of this project. Lots of setbacks came during this project such as the moving of the casting company, global holidays, the birth of our daughter, moving to another city during her arrival, and lastly COVID-19! 2020 has been a pickle from start to finish but i would not let that stop me. I hope you all enjoyed this read!
ROBO NERD is now available in a very limited number. Originally to be released to friends and family only, i have decided to have a small number available to those interested. This is a pre order slated to be released in mid to late January of 2021. For the die hards only!
Also available is the DIY/ blank kit that comes standard with all accessories & functions. Some assembly is required.
---
4 comments