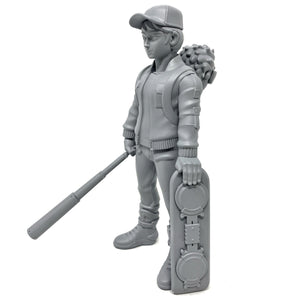 Update || JUNIOR FLUX 1.0
"NOBODY CALLS ME CHICKEN"
PLAYER SELECT
"JUNIOR FLUX"
This version stands 6.5" tall. Weight distribution has been executed perfectly using the bat as a counter balance to accommodate for the Doc plush pack. Furthermore the hover board acts as a third leg for added security.
After analyzing the prototype, i have decided to scale the figure 1" higher for texture purposes. After priming and sealing the figure, the jacket and jean details became obscured and nearly disappeared. The textures of this piece are one of the main highlights of the series. Additionally the sole textures weren't as prominent either. So those will be strengthened as well in version 2.0. A few of the keys needed to be adjusted as well to fit more flush. These are the types of things to figure out in the print phase. I hope some of this incite helps any of you out there.
Take consideration of the list below when developing your piece.
1.) Balance & Weight distribution.
2.) Details for later phases such as mold & cast.
3.) Cutting. To make sure all pieces fit as you would like them with little to no tension. This will help during painting and assembly as well.
Stay tuned for phase 3, version 2.0 for Junior Flux.
👍🏽🤛🏾💪🏼👌👏
-UNCLE SKRO
---